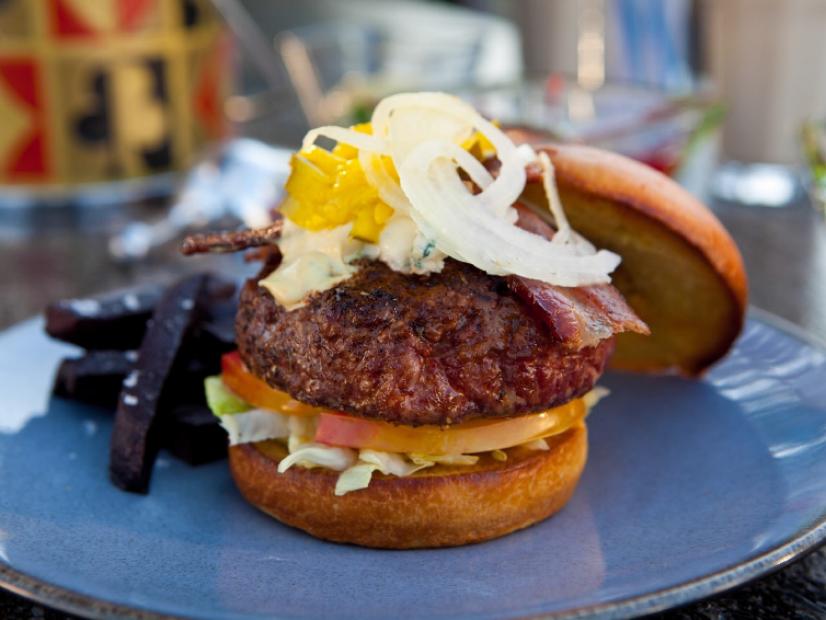 Ingredients:
Blackening Spice:
1 tablespoon fresh ground black pepper
2 teaspoons ground cumin
2 teaspoons granulated onion
1 teaspoon cayenne
1 teaspoon granulated garlic
1 teaspoon Italian seasoning
1 teaspoon paprika
1/2 teaspoon chili powder
1/2 teaspoon kosher salt
Garlic Butter:
4 tablespoons (1/2 stick) unsalted butter
6 cloves garlic, minced
3 tablespoons minced fresh flat-leaf parsley
Donkey Sauce:
1 cup mayonnaise
1/4 cup roasted garlic, minced
1 teaspoon yellow mustard
1/4 teaspoon kosher salt
4 dashes Worcestershire sauce
4 pinches fresh ground black pepper
Black and Blue Burger:
2 pounds ground beef (premium chuck 80/20 blend)
12 ounces blue cheese, such as Point Reyes
8 slices applewood smoked bacon, cooked crispy
4 soft brioche buns, cut in half
1 kosher dill pickle, finely sliced
1/2 Vidalia onion, very finely sliced
1 heirloom tomato, finely sliced
1/4 head iceberg lettu
Directions:
Special equipment: 5-inch wooden skewers, for plating
For the blackening spice: In a small mixing bowl, combine the pepper, cumin, granulated onion, cayenne, granulated garlic, Italian seasoning, paprika, chili powder and salt. Mix to blend. Store in an airtight container if not
using immediately.
For the garlic butter: In a medium saucepan over medium heat, add the butter and garlic, and cook until the butter has melted and garlic has become fragrant, 5 to 6 minutes. Mix in the parsley. Reserve to the side in a small bowl.For the donkey sauce: In a small mixing bowl, combine the mayonnaise, roasted garlic, mustard, salt, Worcestershire and pepper. Mix well. Cover and reserve.
For the black and blue burger: Preheat a grill to medium-high heat.
Divide the ground beef into eight portions; roll each into a loose ball, then flatten into a 4-inch patty. On four of the patties, place 2 ounces of the blue cheese. Cover with a second patty and gently seal the edges to form a stuffed
patty about 1 1/2-inches thick.
Season the stuffed patties on both sides with the blackening spice. Grill, spaced 3 inches apart to prevent flareups, until a crust has developed on the first side, about 3 minutes. Flip, and cook to develop a crust on the reverse
side, 2 minutes. Top each burger with 2 slices of bacon and 1 ounce of the remaining blue cheese. Cover with a piece of foil and cook another 30 seconds to melt the cheese. Remove the burgers to a serving tray to rest. Lightly brush the cut sides of the brioche buns with garlic butter, and toast on the grill until crisp and golden, 5 to10 seconds.
To assemble: Smear the buns with some donkey sauce. Layer the bottom buns with pickles, onions and a burger.
Top with tomatoes and lettuce. Cover with the bun tops and secure with wooden skewers. Serve.